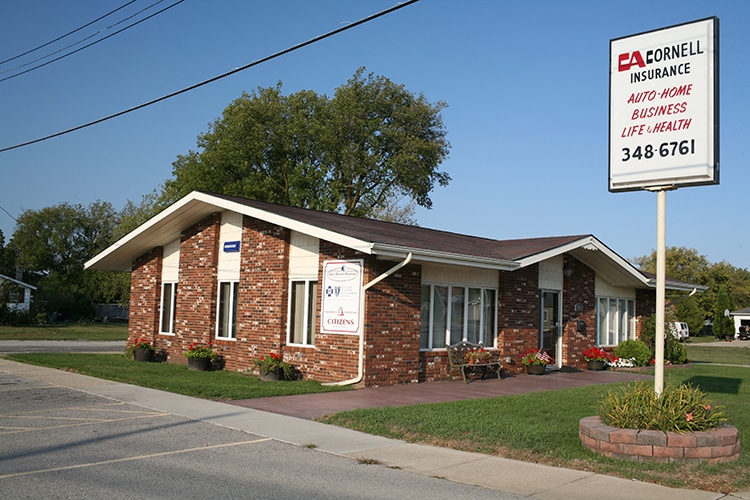 People in Grayling and the surrounding area have relied on Cornell Agency for many years. In fact, the agency traces its roots all the way back to 1916. However. for most local residents the tradition is most closely associated with the late Willard "Butch" Cornell and his wife Beatrice.
Mr. Cornell was a popular and highly successful high school coach, Mrs. Cornell was a teacher of business subjects in area high schools. It was under their ownership that the agency really began to grow during the 1940's. It was also during that time that the Cornells embarked upon the parallel course of the real estate business. That firm, now a separate entity, continues today as Coldwell Banker-Cornell Realty.
For many years, the agency operated from an office at 701 Maple St, adjacent to the Cornell home. In 1964 Paul Thomson,  an area insurance claims adjuster,  was hired. Another long time employee who joined Cornell  in the 1950's was Ann Hanson, who remained with the firm until her retirement in the 1990's.
In 1972, Cornell Insurance and Real Estate relocated to the corner of M72 and 1·75 Business Loop. It was in that same year the insurance agency was purchased by Paul Thomson. Joyce Fox, another long-time fixture at Cornell joined in 1972 and stayed until retirement. Shortly thereafter, in 1974, George Stancil,  a former high school teacher, became associated with the firm. As the business continued to expand,  Ron Thomson joined in 1984, followed by Linda Northrop in 1986.
Paul Thomson retired from active participation at the end of 2002, and the agency was purchased by George Stancil, Linda Northrop and Ron Thomson. Paul Hartman bought in as an owner in 2017. In addition to the owners, the agency employs 6 other associates. It handles all lines of property, casualty, life and health insurance, as well as bonds. The agency represents top carriers such as Auto-Owners, Citizens, Progressive, Pioneer State Mutual and Blue Cross-Blue Shield.
Today, Cornell Agency stands as one of Northern Michigan's oldest and largest insurance companies, and continues the proud tradition of professionalism and community service begun so many years ago.
George Stancil retired in 2009, Linda Northrop retired in July of 2018, Ron Thomson and Paul Hartman are now co-owners. In addition to the owners, the agency employs 4 other associates.
Staff