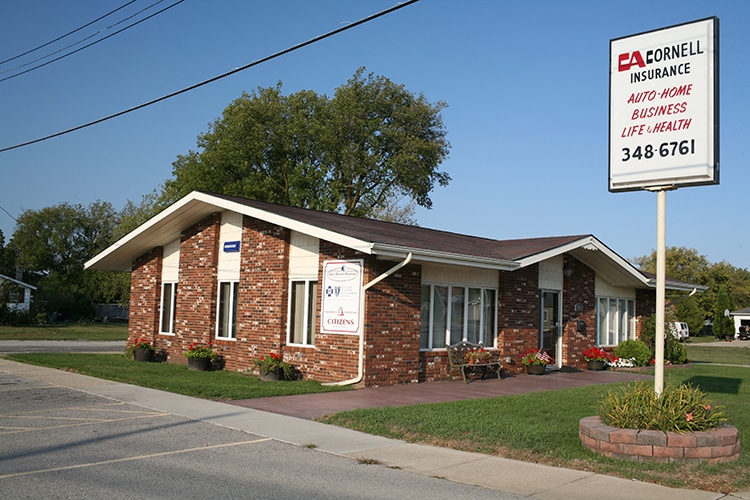 Since 1916, Cornell Agency has been dedicated to making a difference in Grayling and is a company people can always rely on. For residents, the business is closely associated with Willard "Butch" Cornell and his wife, Beatrice. Mr. Cornell was a popular and highly successful high school coach, while Mrs. Cornell taught business in high school. Their leadership allowed the agency to flourish during the 1940s and eventually caused the creation of their real estate business, Cornell Realty.
In 1964, Paul Thomson, a former insurance claims adjuster was hired. Ann Hanson was another long-term employee who joined Cornell in the 1950s and remained until her retirement in the 1990s. The agency and the real estate business changed ownership in 1972 to Paul Thomson, who hired Joyce Fox, another valuable employee who stayed until retirement. Shortly thereafter in 1974, George Stancil, a former high school teacher, became associated with the agency. As the business continued to expand, Ron Thomson joined in 1984 followed by Linda Northrop in 1986.
Paul Thomson retired and sold the real estate agency at the end of 2002. George Stancil, Linda Northrop, and Ron Thomson then purchased the agency. George Stancil retired in 2009, Linda Northrop retired in 2018 and Ron Thomson retired in 2023. The current owner, Paul Hartman, joined the agency in 2008 and began his ownership in 2017 as a co-owner with Ron Thomson.  The agency currently employs 5 other associates, including 4 experienced licensed insurance agents.
Cornell Agency stands as one of Northern Michigan's oldest and largest insurance agencies and continues to hold the proud tradition of professionalism and community service. It handles all lines of property, casualty, life, and health insurance, as well as bonds. The agency represents top carriers such as Auto-Owners, Citizens, Progressive, Pioneer State Mutual, and Blue Cross-Blue Shield. For over 100 years, the Cornell Agency has stayed current on the ever-changing trends of insurance, helped people manage the risks of everyday life, and continued to invest in the community.
Staff